Alleged illegal gold deal ends in a gun battle
---
Watch SuburbNews NINE ZERO footage below. Visit their Facebook Page HERE.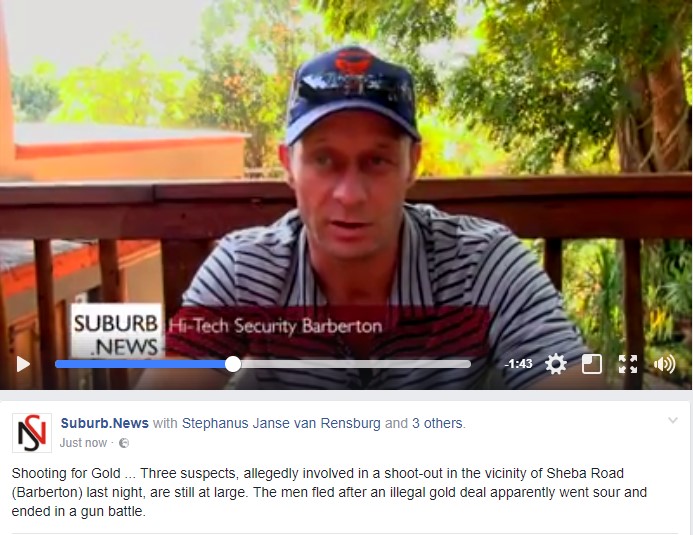 BARBERTON - Three suspects, allegedly involved in a shoot-out in the vicinity of Sheba Road last night, are still at large. The men fled after an illegal gold deal apparently went sour and ended in a gun battle.
The incident occurred at approximately 19:45. According to Stephanus Janse van Rensburg, reaction officer at Hi-Tech, he and another officer on duty, David Msithini, were dispatched by their control room after an alarm had been received from a residence in Paul Davies Street. "On our way there we noticed three armed men running down the road. The instant they became aware of our presence, they opened fire," said Janse van Rensburg.
A chase ensued when the suspects bolted through another resident's premises, before Hi-Tech managed to catch up with them in Tambotie Street. Here, shots were exchanged, before the suspects disappeared into a donga. Janse van Rensburg said, "The donga posed a threat to our safety and it would not have been wise to pursue them any further, so we returned to the house from where the alarm was initially received."
There the owner informed them that the trouble had started in Sheba Road.
"Upon our arrival we encountered a man sitting in the driveway with a gunshot wound to the head," he said. The latter rents a room on the premises. Another man, who was also on the scene and apparently also a tenant, had been shot in the foot. According to the neighbours, they heard an argument, during which someone repeatedly shouted: "Where is my gold?! Where is my gold?!", moments before the shooting.
Jan Oberholzer of Mpumalanga Provincial Ambulance Services said they only focused their attention on the man with the head wound, as the other victim refused treatment.
"He was taken to Barberton General Hospital, but was later transferred to Rob Ferreira in Mbombela. Although he had lost a lot of blood, he was fully conscious throughout the ordeal," said Oberholzer.
Chairman of the Umjindi Ratepayers Association, Andy Nuns, who has been voicing his concerns about illegal mining in the area for months now, said the matter was getting out of hand and needed to be addressed as a matter of urgency.
No further information was available at the time of going online. Police are still investigating the matter.
Written by: Anchen Coetzee for Ama'Zone Media Solutions t/a Africa InTouch
Sub Editor: Lynette Brink / Letter Linguist