5 Ways to upscale your kitchen on a budget
---

Most people will agree that the kitchen is the most important room at home. It is where we start our day and where we end it. It has the power to change the entire feel of your house.
If it is well designed, it has the ability to uplift and improve both the appearance and functionality of your space; however, if it is not, it can make the entire home feel dated and inefficient.
This can be a huge problem if you ever decide to sell your house; as most realtors would agree, it is the kitchen that lands the final hit of the mallet on the sold sign.
When people think about upscaling the kitchen, they usually get flashbacks to an extreme home makeover episode and become overwhelmed by the extensive costs involved. However, it is important to remember that even small changes can give your kitchen an entirely new look.
Below we will take a look at five ways to upscale your kitchen while on a budget and so increase the value of your home.
Paint
One of the most obvious solutions would be to slap on a fresh coat in of paint in the kitchen to give it a much-needed update. To delve further into this, light pastel colours work really well when it comes to creating the feel of a larger, airier room. A cream background provides the perfect base on which to build.
Once you have your base colour sorted, consider painting your tired, old kitchen cabinets in a fresh new colour in order to add a bit of style.
You could even paint just your kitchen island or peninsular; this tiny little refresh can update the look and feel of your whole space.
Experimenting with different paints and colours is one of the cheapest and easiest ways to totally transform the look and feel of your kitchen without having to dig into that precious family holiday fund.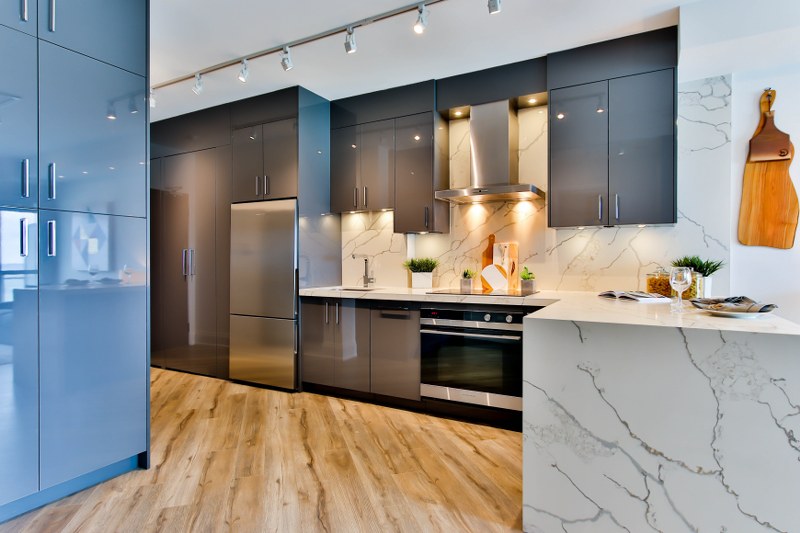 Update your lighting
Another wonderfully inexpensive option would be to change up the lighting in your kitchen. Today, houses often come with standard ceiling lights that tend to look very uniform and boring.
Mix things up by choosing modern or even vintage lighting to give your kitchen some character.
A gooseneck sconce or pendant can make a real impact when it comes to the overall design of your kitchen. LEDs underneath your cabinets could add a soft ambient light for a modern and classy look.
Do not be afraid to get creative when it comes to the lighting in your kitchen. Large Edison bulbs or interesting repurposed pendants are a great way to transform an otherwise boring and mundane cooking space.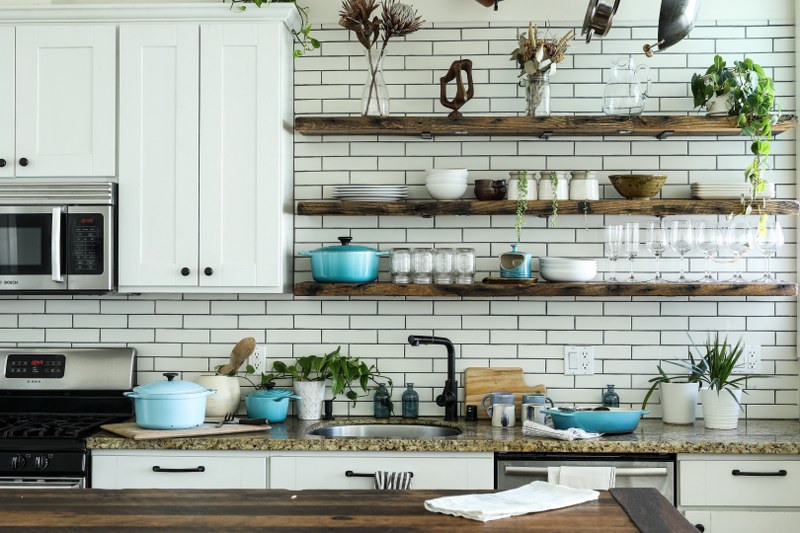 Open shelving
Modernise your upper cabinetry by putting some of your dishes, cookbooks or even fresh herbs on display. You can achieve this by either completely removing the upper cabinets or replacing them with floating shelves or you could simply just remove the cabinet doors.
This will give the room a lighter, more modern and even less cluttered look. Displaying fresh herbs in the kitchen is always a great idea; it brightens the room with a splash of fresh, green colour and allows you convenient access while cooking.
Simply by opening up some wall space, you can create a more functional kitchen. If you display the plates and serving platters that you use the most, you can significantly reduce the time and effort it takes to dig them out the cupboard and eventually set the table.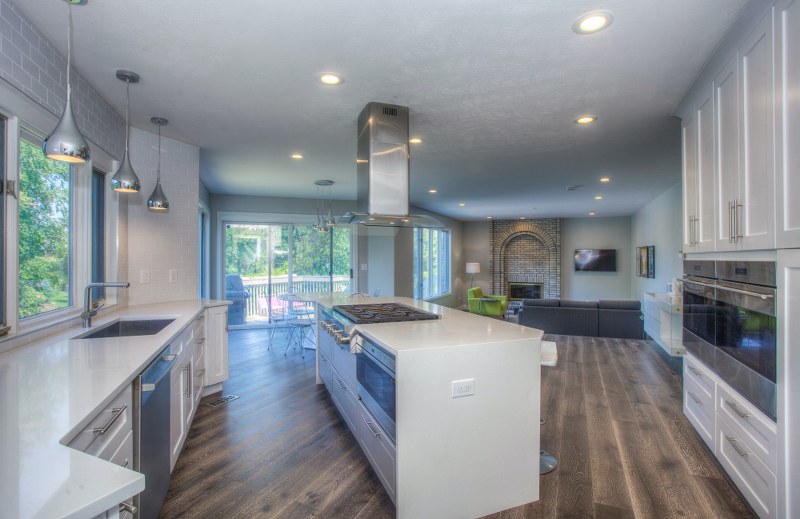 Upgrade your countertops and sinks
These days there are number of inexpensive countertop materials to choose from. Giving your countertops an upgrade costs only a fraction of the price of a full renovation.
The most popular materials include granite, quartz and Formica. If you can manage its price, quartz is one of the hardest substances on earth. It is naturally heat, bacteria and stain resistant, as well as being extremely durable and breathtakingly beautiful.
Bamboo is another strong, durable option when it comes to countertops. This is a unique, cost-effective and eco-friendly alternative to wood and looks amazing in any kitchen.
Upgrading your taps and sink can also have a major effect on the overall look of your kitchen. Try going bold with matt black finishes or chic brassy tones to compliment a modern kitchen.
A multifunctional tap and double sink is always a cost-effective winner when it comes to a kitchen upgrade.
Consider mixing countertop materials. You can opt for a bamboo top on just your island or peninsular and then a quartz or granite-effect worktop around the sink and cooking area. This multi textured effect can create an extremely stylish and well-designed look for your kitchen.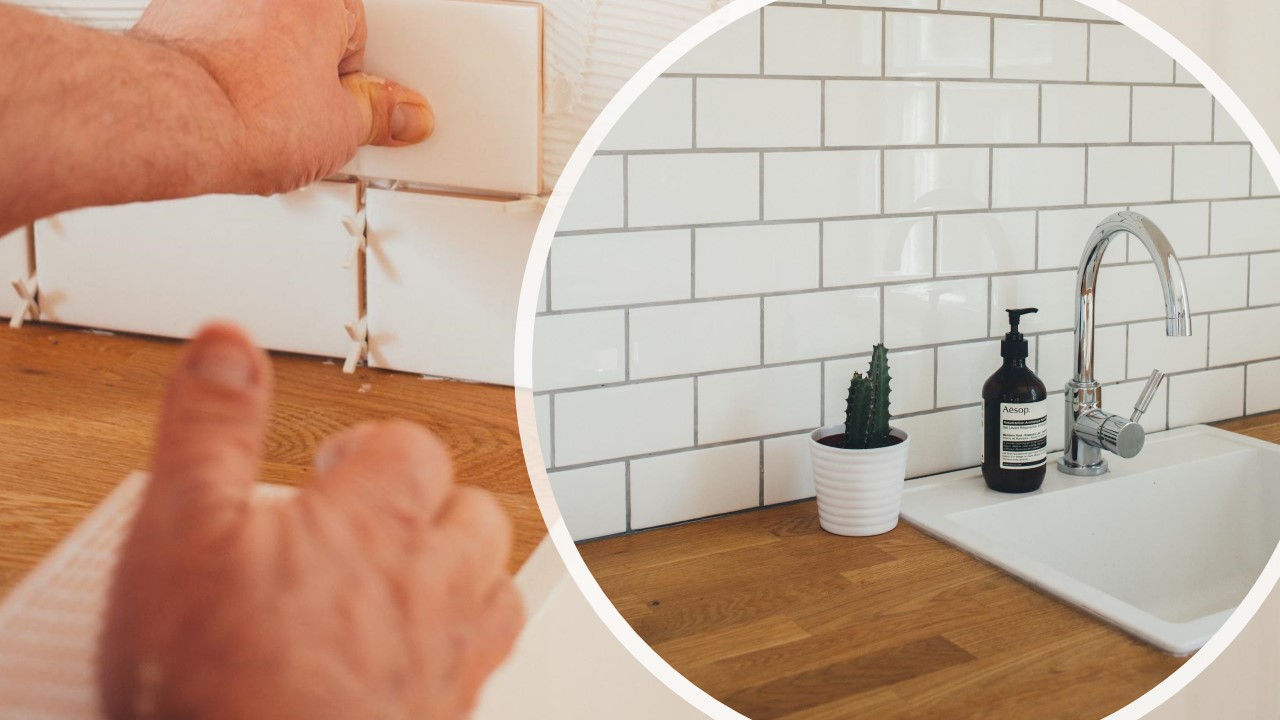 Wallpaper and backsplash
Wallpaper can be a fun, inexpensive way to give a bland kitchen a pop of colour and pattern. Just remember to not overdo it. What you want is a simple, modern pattern that is meant to compliment your kitchen without overpowering it.
You can wallpaper the ceiling, the cabinets, the backs of glass-doored cabinets, your island or peninsular, fridge or even your dishwasher.
The key here is to only wallpaper one or two standalone items. If you choose to wallpaper your cabinets, consider instead covering a smaller square in the centre of your cabinet door to give it a more modern look.
A backsplash can do wonders when it comes to adding personality to your kitchen. Here you can really make a statement by taking a classic metro or subway-shaped tile and laying them in a herringbone or vertical pattern instead of the traditional brick-face arrangement.
For something even more exciting, go for a patterned ceramic tile in a smaller space or somewhere where it will make a big impact.
All in all, you can do a lot to improve the overall look of your kitchen just by adding some colour, pattern or texture. Get creative and do not be afraid to be bold.

Editor: Anchen Coetzee
Written by: Tereasa Dias
Subeditor: Wahl Lessing