UPDATE: It's smoking hot at Acornhoek SAPS
---
UPDATE: TELEPHONE NUMBERS TO BE USED FOR ACORNHOEK POLICE STATION
"Following the damage caused by fire at Acornhoek Police Station. The police management has set up a temporary Community Service Centre to ensure that service delivery is not interrupted. In addition to the CSC, cellphone numbers have been made available to members of the community as an alternative means of communication. The management would also like to inform the community that should they want to access the police station, there are signs which have been put up to direct them. The police management reassures the surrounding communities that service delivery has not and will not be interrupted. "
Brig Leonard Hlati.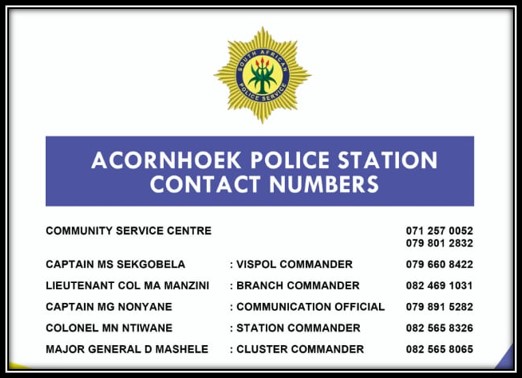 ACORNHOEK - Parts of local police station were damaged yesterday when the building caught fire at about 22h20. The detective offices and the community service centre sustained considerable damage in the incident. The cause of the fire is currently unknown. The SAPS Forensic Department has, however, launched an investigation into the incident. A team of experts will also conduct a comprehensive assessment of the extent of the damage as to determine if the building is safe to enter.
The police would like to assure community members that service delivery has not been interrupted.
The Provincial Commissioner for the Police, Lt Gen Mondli Zuma, has facilitated the establishment of a temporary community service center. As an interim measure, awaiting trial prisoners have been transferred to other police stations for their own safety, even though the holding cells had not been affected by the blaze.
Editor: Anchen Coetzee
Subeditor: Lynette Brink
Submitted by: Brig Leonard Hlathi