A comprehensive guide to the Kruger National Park
---
The Kruger National Park is located in the north-east region of South Africa and covers an area of some 2 million hectares, spread out across the parts of the Mpumalanga and Limpopo provinces. Kruger Park is a state-owned entity which is managed by South African National Parks (SANParks).
The iconic national park is world-renowned for its outstanding biodiversity as well as rich cultural heritage. Kruger Park is core to the Kruger to Canyon Biosphere Reserve (K2C) which is the largest biosphere reserve in Africa and the third largest in the world. K2C was registered as a UNESCO International Man and Biosphere Reserve; a global acknowledgement of its biological significance.
Find out more about Kruger National Park and what makes it one of the most popular Big 5 safari destinations in southern Africa. Moafrika offers tailor made Budget Kruger National Park Safaris.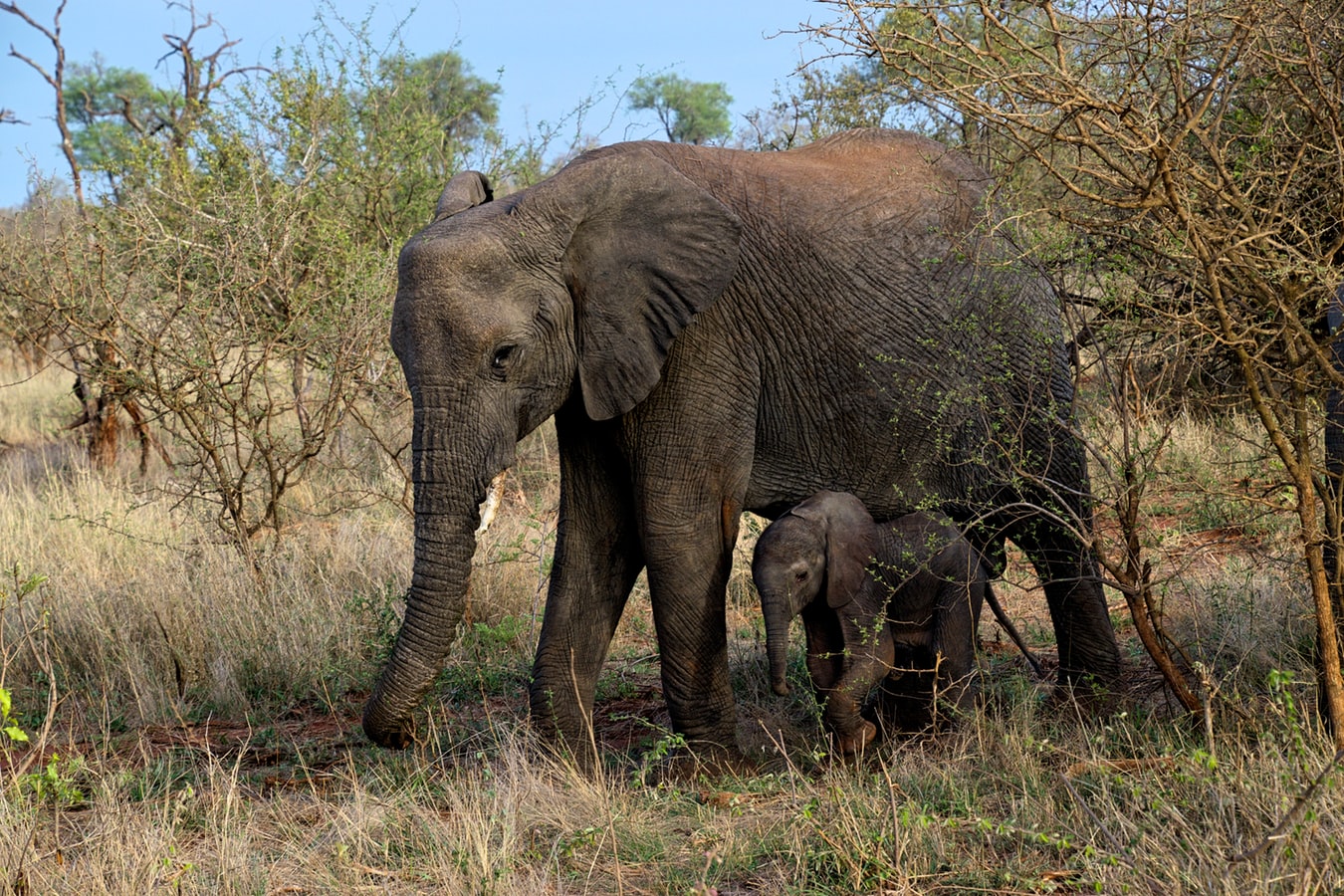 Where is Kruger National Park?
Kruger National Park is located in the far north-eastern region of South Africa. It covers an area of 19 485 square kilometres (7 523 square miles) and stretches over the provinces of Mpumalanga and Limpopo.
Mozambique lies on its eastern boundary and Zimbabwe on its northernmost boundary. The three-way junction of South Africa, Mozambique and Zimbabwe is in the middle of a dry riverbed at Crooks Corner at the northernmost tip of the Park where the Luvuvhu and Limpopo rivers merge.
The closest towns to the southern section of Kruger Park are Nelspruit, White River, Hazyview and Malelane.
The closest town to the central section of Kruger Park is Hoedspruit.
The closest town to the northern section of Kruger Park is Phalaborwa.
Who owns Kruger National Park?
Kruger National Park is owned by the state and is managed by South African National Parks (SANParks). SANParks is a public body that operates under the authority of the Department of Environmental Affairs, and is primarily a self-funding entity. At least 80% of SANParks' operating revenue is generated through sustainable tourism.
How big is the Kruger National Park?
Kruger National Park spans an area of 19 485 square kilometres (7 523 square miles); and stretches over the northern reaches of Mpumalanga Province and the eastern reaches of Limpopo Province. It's 360 kilometres (220 miles) from north to south, and 65 kilometres (40 miles) from east to west. Kruger Park is about the same size as Israel and a tad smaller than Belgium.
The national park shares an unfenced border with the Greater Kruger which adds an additional 1 800 square kilometres to the protected wilderness region. Greater Kruger is an amalgamation of 19 private game reserves that have taken down their fences to allow the wild animals to roam freely between the private reserves and Kruger Park.
Kruger National Park and Greater Kruger fall within the Great Limpopo Transfrontier Park which is a Peace Park that links the Kruger region with game reserves in Zimbabwe and Mozambique. When complete, the Greater Limpopo Transfrontier Park will span 35 000 square kilometres; 58% in South Africa, 24% in Mozambique and 18% in Zimbabwe.
The vast wildlife region is core to the Kruger to Canyons (K2C) Biosphere Reserve which was registered by UNESCO in 2001. K2C has 1.4 million hectares dedicated to long-term conservation (898 300 hectares of formally protected area and 400 000 hectares of private-owned conservation land). The entire registered Biosphere Reserve area is 2.5 million hectares.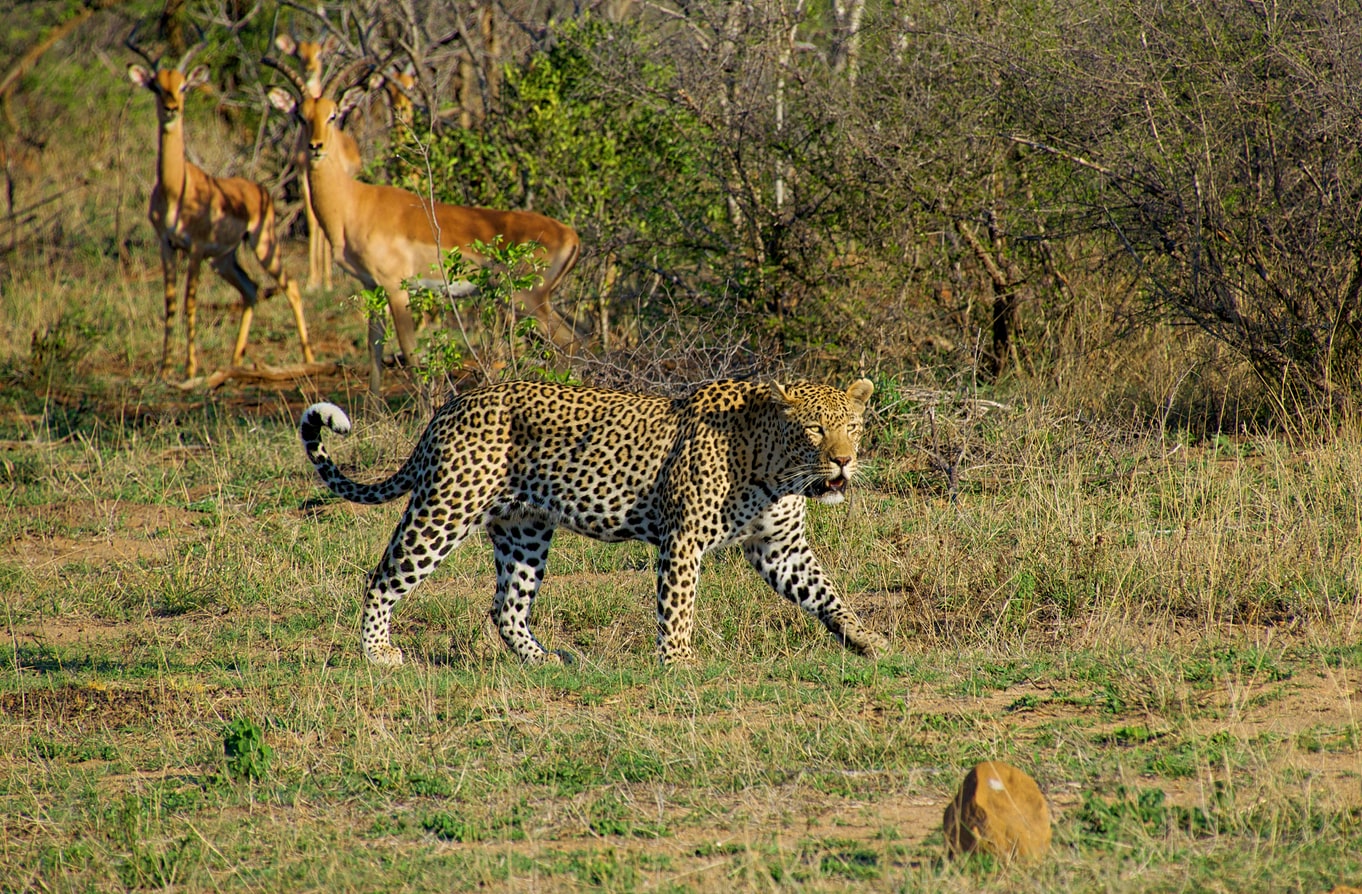 A brief history of Kruger National Park
There is evidence at famous archaeological sites in Kruger Park that the region has been inhabited for almost 500 million years. Stone tools and artifacts from 100 000 to 300 000 years ago give some insight into farming and hunting activity that took place in the Stone and Age.
Over the course of time, the north-eastern region of South Africa was inhabited by the San people (Bushmen tribe) and the Nguni people. The Tsonga people settled in the area permanently, followed by Europeans who farmed and hunted in the fertile and game-rich region.
In the 1800's, people hunted in the area without any thought or care for conservation. Animals were killed for sport and for the pot to the point where large herds were decimated and certain species faced extinction. Paul Kruger, president of the Transvaal Republic, recognised the need to limit hunting and protect the valuable natural resources in what was then the Eastern Transvaal and proposed creating a state-owned wilderness reserve with restricted hunting.
Initially, the area between Sabie River and Crocodile River was set aside for restricted hunting in 1884. A long decade later, Paul Kruger's visionary idea of a government-run national park was realised when the Sabie Game Reserve was established. It would later be renamed the Kruger National Park in his honour.
The first Warden of Kruger Park appointed in 1902 was Scottish-born James Stevenson-Hamilton when it was still known as Sabie Game Reserve. In 1927 the Sabie Game Reserve was merged with the Shingwedzi Game Reserve after the proclamation of the National Parks Act was passed.
You can find out more about the fascinating history of Kruger National Park and the men and women that shaped its future at the Stevenson-Hamilton Memorial Library in Skukuza Rest Camp.
Is Kruger Park a Big 5 safari destination?
The Kruger Park is one of the most popular Big 5 safari destinations in southern Africa. It's home to strong numbers of elephant, buffalo, rhino, lion and leopard as well as an abundance of plains game, antelope and predators such as wild dog, hyena and cheetah.
Big 5 is a term that was used in the old hunting days to describe the group of wild animals that were most feared in the bush. They were the most dangerous to encounter, and as a result the most sought-after by trophy hunters. Today, we use the term Big 5 to describe the most sought-after animals to see on a safari tour.
Where to go in the Kruger National Park?
Where you go and where you stay in the Kruger National Park depends on what you want to see and do. There are no fewer than 17 distinct biospheres in the national park which are roughly grouped into 6 ecozones. Each ecozone has its unique fauna and flora which in turn attracts its own wildlife and birding enthusiasts.
Kruger Park is typically divided as follows:
Kruger's Far North Region
The Far North region of Kruger Park is world-renowned as one of the best birding destinations in southern Africa. The northernmost tip of Kruger Park is thin on game but it's rich in bird species and the bushveld surrounds are incredibly scenic.
This section of Kruger Park is not easily accessible and only ardent birders and nature lovers tend to visit the far north region of Kruger. As a result, there is virtually zero traffic congestion and it's a wonderfully quiet and peaceful area to visit. Far North Kruger lies in a rain shadow and flanks the banks of the fertile Luvuvhu River which is renowned for its lush riverine forests.
Kruger's Northern Region
The northern region of Kruger Park is semi-arid because it receives significantly less rainfall than the rest of the Park. At the same time, five important rivers crisscross this section of Kruger Park which creates narrow corridors of lush riverine forests that break up the starkness of the dry mopane shrubveld.
The northern section of Kruger Park is renowned for its strong populations of elephant. The latest estimate is some 9 000 of these gentle giants. It was home to the famous Magnificent 7 which were the largest and most impressive elephants that roamed the area for decades.
Kruger's Central Region
The central region of Kruger Park is known as the 'Big Cat Capital of Kruger Park'. It supports nearly half of the Kruger's lion population as well as strong numbers of hyena, cheetah and leopard. It's estimated that there are at least 60 individual prides of lion in central Kruger.
The reason the central section is a popular hangout for predators is because the area attracts an abundance of plains game. This includes an array of antelope, giraffe, zebra and wildebeest. The animals are attracted to the quality of grass on the wide open plains which is sweeter than the rest of Kruger, and to the abundance of browsing trees.
Kruger's Southern Region
The southern region of Kruger Park has the highest concentration of animals which are attracted to the area because of its lush vegetation and abundance of water. It's the most popular Big 5 safari region in the Kruger Park as it boasts strong numbers of elephant, buffalo and rhino as well as rewarding sightings of lion and leopard.
Southern Kruger is the most easily accessible section of the Park for tourists booked in for a short-stay tour as well as day visitors. Therefore, it's busiest section of the Park and avid wildlife enthusiasts may be put off by the safari traffic congestion and the need to 'queue to view' at game sightings.
Where to stay in the Kruger Park
Accommodation in Kruger National Park ranges from caravan/camping sites and clean, comfortable but fairly basic SANParks bungalows and guest houses to ultra-luxury safari lodges on the private Kruger concessions. The majority of visitors opt to stay in budget-friendly self-catering accommodation in the main rest camps or the more remote bushveld and satellite camps.
Kruger Park Rest Camps
The main Kruger Park rest camps offer a variety of accommodation that ranges from basic self-catering 2-sleeper rondavels (round huts) or bungalows to 4- or 6-sleeper family units. Linen and towels are provided and each unit is equipped with a basic kitchenette and braai (barbeque) facilities with cutlery and crockery provided.
The main Kruger rest camps are fenced and electrified. The large rest camps have convenient facilities such as a shop, restaurant and take-away deli, laundromat and a fuel station. Skukuza Rest Camp is the administrative headquarters of Kruger Park and the largest rest camp in the national park.
There are 9 rest camps in Kruger Park:
Berg-en-Dal Rest Camp: located in southern Kruger on the bank of the Matjulu Spruit
Lower Sabie Rest Camp: located in east-central Kruger on the bank of the Sabie River
Olifants Rest Camp: located in north-east Kruger overlooking the Lebombo Mountain
Orpen Rest Camp: located on the western boundary close to Orpen Gate
Pretoriuskop Rest Camp: located in south-western Kruger close to Numbi Gate
Punda Maria Rest Camp: located in northernmost Kruger close to Punda Maria Gate
Shingwedzi Rest Camp: located in northern Kruger overlooking the Shingwedzi River
Skukuza Rest Camp: located in southern Kruger on the bank of the Sabie River
Kruger Park Bushveld Camps
Kruger Park Bushveld Camps are located in more remote areas and the number of guests staying in the camp are limited. They offer a more authentic safari experience for avid wildlife enthusiasts who want to stay away from the busy crowds at the Kruger rest camps.
If you stay at one of the Kruger Park bushveld camps, you have to take everything you need for a self-catering holiday with you because there are no shops or restaurants in the camp. You can stock up on provisions at one of the nearby rest camps.
There are 5 bushveld camps in Kruger Park:
Bateleur: located in northern Kruger, south-west of Shingwedzi Rest Camp
Biyamiti: located in southern Kruger, closest to Malelane and Crocodile Bridge entrance gates
Shimuwini: located in north-central Kruger, south-west of Mopani Rest Camp
Sirheni: located in far north Kruger, south-east of Punda Maria Rest Camp
Talamati: located in central Kruger, south-west of Satara Rest Camp
Kruger Satellite Camps
Satellite camps in the Kruger Park are located some distance from the main rest camps but close enough that you have convenient access to the shops, restaurants and filling stations. They offer self-catering and/or camping facilities, and a quieter, more authentic safari experience in secluded bushveld surrounds.
There are 4 satellite camps in the Kruger Park:
Balule: located south of Olifants Rest Camp, close to the eastern boundary of Kruger Park
Malelane: located close to Malelane entrance gate, on the southern boundary of Kruger Park
Maroela: located 2 kilometres east of Orpen Rest Camp, on the western boundary of Kruger Park
Tamboti: located 2 kilometres east of Orpen Rest Camp, on the western boundary of Kruger Park
Kruger Park Bush Lodges
A bush lodge in the Kruger Park is a private self-catering safari lodge that offers guests privacy and exclusivity. Access is restricted to paying guests and its typically booked out on an exclusive-use basis for a family or group of friends. There are no shops or restaurant facilities at the lodge.
There are 3 bush lodges in the Kruger Park:
• Boulders Bush Lodge: located south of Mopani Rest Camp in north-central Kruger Park
• Pafuri Border Camp: located in far northern Kruger Park, close to Punda Maria Rest Camp
• Roodewal Bush Lodge: located north of Satara Rest Camp on the banks of the Timbavati River
Luxury safari lodges in the private concessions of Kruger Park
If you would like an exclusive safari experience that mirrors anything you'd find at the private reserves of Greater Kruger, you can book accommodation at one of the independent safari lodges built on the private concessions of the national park.
The 5-star safari lodges offer guests the best of both worlds; luxurious accommodation and an intimate safari tour with restricted access to the private concession and unrestricted access to the vast network of public roads in the national park.
Luxury safari lodges in the private Kruger concessions include:
Baobab Hill Bush Lodge
Camp Shawu
Camp Shonga
Fitzpatrick's Lodge at Jock
Hamilton's Tented Camp
Hoyo Hoyo Safari Lodge
Imbali Safari Lodge
Jock Safari Lodge
Lion Sands Narina Lodge
Lion Sands Tinga Lodge
Lukimbi Safari Lodge
Pafuri Camp
Plains Camp Tented Safari Lodge
Rhino Post Safari Lodge
Shishangeni Private Lodge
Singita Lebombo Lodge
Singita Sweni Lodge
The Outpost Lodge
Things to do in the Kruger National Park
There are more than enough things to do in the Kruger Park to keep people busy in the hours between the early morning and late afternoon Big 5 game drives. Apart from its outstanding biodiversity and rich fauna and flora; Kruger Park is also rich in cultural history and is an important archaeological region.
Cultural heritage sites
Kruger Park has over 255 recorded archaeological sites in the national park; which records human activity that dates back to the early Stone Age and the Iron Age. The three most important cultural sites in the Kruger Park are the Albasini Ruins, Masorini and Thulamela.
Albasini Ruins
This is the site of the remains of the 19th century trading post of the famous Portuguese trader, Joao Albasini; located close to Phabeni Gate (10 kilometres from Hazyview). It's believed that Albasini's settlement at Magashula's Kraal was the first European settlement in the disease-ridden Lowveld.

Masorini
Masorini is a late Iron Age site which is located on a prominent hillside about 12 kilometres from the Phalaborwa Gate on the tar road to Letaba Rest Camp. The site was inhabited by a Sotho-speaking Ba-Phalaborwa tribe during the 1800's who developed advanced mining and iron ore smelting industry.

Thulamela
Thulamela is a stone-walled site located in the far-north region of the Kruger Park. It dates back some 450 to 500 years to the late Iron Age. The important archaeological site has uncovered the skeleton of a female that dates back to AD 1600. A second skeleton of a man dates back to AD 1450.
Letaba Elephant Hall
Letaba Elephant Hall is an interesting exhibition facility at Letaba Rest Camp which showcases the iconic elephants of the Kruger Park with life-size exhibits, including skulls and tusks of the largest elephants to have lived in the region. Most specimens belonged to the 'Magnificent 7' who died between 1981 and 1985.
Many of these famous elephants weighed over 50 kilograms and had impressive tusks. The most popular were named Dzombo, Kambaku, Mafunyane, Ndlulamithi, Shawu and Shingwedzi. The most famous of all was Mandleve who died of natural causes in 1993. Mandleve had the largest tusks ever recorded in the Kruger Park.
View more Kruger National Park Safaris
Stevenson-Hamilton Memorial Library
Stevenson-Hamilton Memorial Library is located in Skukuza Rest Camp. It's named in honour of James Stevenson-Hamilton who was the first Warden of Sabie Game Reserve, now the Kruger National Park. Skukuza is the name given to James Stevenson-Hamilton by his staff, meaning "he who sweeps clean" in Shangaan.
The Stevenson-Hamilton Memorial Library was opened in 1961 and houses a fascinating collection of memorabilia that showcases the pioneering days of early Kruger Park. You'll find a valuable collection of books, hand-written notes and Park records that James Stevenson-Hamilton kept on his early exploits as the first warden of Kruger Park, and the skin of a lion who was famously killed by Henri Wolhuter while being dragged through the bush in its jaws.
Kruger Park bird hides
Kruger Park has 517 recorded bird species, including several rare and endemic species. Bird watches have the choice of 11 protected bird hides in the Kruger Park that overlook permanent water sources, as well as a few found in the rest camps.
The Shipandani Hide close to Mopani Rest Camp and Sable Dam Hide close to Phalaborwa Gate can be booked in advance for an overnight stay. Sunset Dam near Lower Sabie is a popular viewing site as well as Lake Panic Bird Hide situated near Skukuza Rest Camp.
Kruger Park Wilderness Trails
The official SANParks guided wilderness trails offer wildlife enthusiasts the opportunity to explore wild and remote areas on foot, in the company of an armed and highly knowledgeable game ranger. Walking groups stay in rustic but comfortable camps deep in the bushveld. Bookings are made through the SANParks website.
There are 7 Kruger Park wilderness trails:
Nyalaland
Olifants
Sweni
Metsi Metsi
Napi
Wolhuter
Bushman
Mafunyane 4×4 Kruger Adventure Trail
The SANParks 4×4 eco-adventure trails in the Kruger Park take clients off the beaten track to remote and isolated areas. It's an opportunity to put your 4×4 driving skills to test while enjoying a few glorious days in stunning, uninhabited bushveld surrounds.
The Mafunyane 4×4 Adventure Trail allows a maximum of 6 vehicles per trail per day. It's a four day/3 night self-catering guided adventure that explores the north-western area of the Kruger Park between the Olifants and Luvuvhu rivers. A knowledgeable and professional trail guide leads the group, covering a distance of approximately 270 kilometres in total.
The trail departs from Phalaborwa Gate every Thursday afternoon at 12h00 and ends at Punda Maria Camp on Sunday morning. The 4×4 adventure trail only operates during the dry season from 1 March to 30 November. A maximum of 4 persons are allowed per vehicle. No children under 12 years unless arranged prior to departure.
Kruger Park Eco-Trails
The SANParks eco-trail departs every Sunday from Crocodile Bridge in southern Kruger and ends on Thursday at Pafuri Camp in northern Kruger. It's a self-drive excursion with a professional guide leading the way. All vehicles must be at least 2×4 WHD and you need to carry all the equipment you need for camping.
The adventure eco-trails only operate during the dry winter season between 1 April to the last Sunday in October. They may be cancelled if heavy rain is forecast.
Another 4×4 eco-trail option in Kruger Park is the 1-night guided adventure tour that takes you to the north-east of Phalaborwa Gate and the Letaba River. This route allows you access to remote areas which are not accessible to ordinary Kruger tourists. A maximum of 5 vehicles can participate in the 1-night eco-trail.
Tropic of Capricorn
If you find yourself in the northern region of Kruger Park close to Mopani Rest Camp, take a short 12-kilometre drive to a site where you can cross the Tropic of Capricorn. This is a parallel line of latitude of approximately 23 degrees south of the equator.
At this latitude, the sun's rays strike the earth vertically on only one day of the year; at noon on or either side of 21 December. This occurrence marks the beginning of summer in the Southern Hemisphere and the beginning of winter in the Northern Hemisphere.
TRAVEL INFORMATION FOR KRUGER NATIONAL PARK
Is Kruger Park safe to visit?
Kruger National Park is a safe place to visit as long as you follow the rules and regulations of the national park, particularly on game drives. Most visitors to Kruger Park opt for self-drive safari holidays and it's extremely important visitors to stay on the public roads and not venture off the beaten path; and to return to camp before the gates close.
Is there malaria in the Kruger Park?
Kruger National Park is located in the north-eastern region of South Africa which is a medium-to-high risk malaria area. Malaria is a life-threatening disease and can be fatal if not diagnosed and treated early. It's highly recommended that all visitors take anti-malaria tablets, regardless of the time of year you are visiting the region.
Mosquitoes are more active in the rainy summer months between November and April, and tend to bite more between dusk and dawn. To prevent being bitten by mosquitoes; use insect repellent during the day and night, sleep under a mosquito net if provided, change into long-sleeved shirts and long pants before the sun sets and wear long socks and closed shoes in the evenings if you're sitting outside.
Weather in the Kruger National Park
The climate in the northern region of South Africa is typically a hot, sub-tropical climate. The rainy season occurs in the summer months between November and April. Days are sunny and hot, with afternoon thunderstorms offering welcome respite from the heat. The Kruger Park is hottest in December and January when temperatures reach the upper 30s and low 40s.
The winter months between May and August are mild and pleasant. The evenings are chilly once the sun goes down so pack a warm winter jacket, beanies and gloves for the early morning and late afternoon game drives.
Best time of year to visit Kruger Park
The Kruger National Park is a year-round destination, although there's a "reason for every season". When you visit depends on what you want to see; animals or birds or both.
The best time for game viewing in the Kruger Park is in the winter months from May to August. This is the dry season and the grass is dry and thinned out so it's easier to spot game. Animals tend to congregate closer to permanent water sources.
In the late spring and summer months between September and April, the Kruger bushveld is lush and thick. Game is more difficult to spot in the dense undergrowth and the animals drift further away from the usual popular water sources. This is the best time to visit Kruger Park for bird watching because many of the transatlantic bird species have arrived for their 'summer holiday' in Africa.
Getting to Kruger Park from Johannesburg
By aeroplane
There are four airports serving the Kruger National Park:
Skukuza Airport: located a short drive from the largest rest camp in the Kruger Park
Kruger Mpumalanga International Airport (KMIA): located in the outskirts of Nelspruit, the capital city of Mpumalanga; useful for easy access to southern Kruger Park
Eastgate Airport: located on the outskirts of Hoedspruit in the Greater Kruger; useful for easy access to central Kruger Park and private game reserves in the Greater Kruger National Park
Phalaborwa Airport: located on the outskirts of the closest town to north-central Kruger; useful for easy access to the far north regions of the national park
The two popular airlines offering scheduled flights to these airports are Airlink and FedAir.
Private charter flights can be booked, flying you direct from OR Tambo International Airport to private airstrips in the Greater Kruger National Park or Hoedspruit and Phalaborwa airports.
By car
The Kruger National Park is approximately a 5 to 6 hour's drive from Johannesburg, depending on which entrance gate you select. It's recommended that international visitors book a Kruger Park safari tour with a reputable tour operator.
View our luxury 6 Day Kruger safaris.
Editor - Africa InTouch News: Anchen Coetzee
Written by: Alan Aldridge