Reckless rumour about to turn EFF's faces as red as their T-shirts
---
BARBERTON - Barbertonian, Astrid Christianson, strongly denied that there was any truth in a recent statement made by an EFF member on social media, in which he suggested that she had approached the party regarding the deaths of Luke von Johnston and John Ntimane on October 24. This entry might have created the impression that Christianson has connections to the EFF.
"I am livid, absolutely livid! This is absolutely unacceptable!" she told Africa InTouch News on Monday.
The entry was made on the Facebook group, EFF Malema, on March 15. The content is primarily centred around Von Johnston and Ntimane. Not only has it received nearly 2 000 views and approximately 700 shares, but the majority of comments made are littered with hate speech and racism.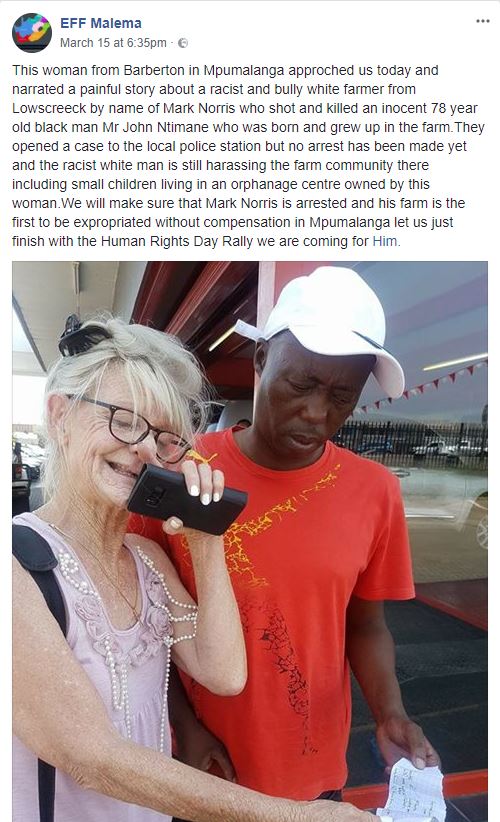 According to Christianson, the photo in the entry was taken on Thursday at a fuel station in town, while she was engaging in friendly conversation with a man in a red shirt, identified as Mpumalanga EFF leader, Collen Sedibe. Afterwards, the man requested that they pose for a photo together. Everyone who knows Christianson, who is the Marketing Director of Barberton Tourism, will know that she is the type of person who would not have questioned the motive for such a seemingly harmless request for a millisecond.
"We had a conversation about crime in general, the lack of basic education and about Luke and John. Never, at any point in this conversation, did I refer to Mark Norris as a racist! How could I? He shot a white and a black man! What I did say, however, was that I could not understand why it was taking so long for justice to run its course! Both Luke and John were dear friends of mine for many, many years," she said.
Upon being questioned on her political viewpoint, Christianson strongly rejected any assumption that she has an affiliation with any specific political party whatsoever.
"Absolutely not, and certainly not with the EFF and their hate speech, including their viewpoint that they can just take farms without compensation. I am totally and utterly against that. I only want to see justice done for both Luke Von Johnston and John Ntimane, who were shot on the farm."
"I want to reiterate the point that there is absolutely no merit in the rumour that I am member of EFF. I will never be and I do not support them in any way whatsoever!"
Meanwhile, Christianson has approached Jaice Terblance of J Terblanche Attorneys in Mbombela for legal assistance.
Africa InTouch News spoke with Terblanche on Monday.
"We have entered into consultation and insist on a formal apology by the party. Alternatively, we will take the necessary legal steps to hold the person or persons, who distributed the false information, accountable," said Terblanche.
Take Note: The entry has been reported as fake to Facebook admin.
Subeditor: Lynette Brink