The road to health for Multimedia Sports Journalist, Trevor Cramer
---
Well-known for his award-winning interviews with South Africa's leading sportsmen and women, and as the voice of cricket at both SuperSport and Willowmoore parks, the road to health for DSTV Digital and African News Agency Multimedia journalist, Trevor Cramer, has been no easy task but one born out of necessity. In the face of life-threatening diabetes and both sky-high cholesterol and blood pressure levels, the former Jacaranda FM Sports Editor, known as 'Oom Trev' to his listeners, decided it was time for change – losing a staggering 48kg in nine months and throwing his chronic medication in the trash.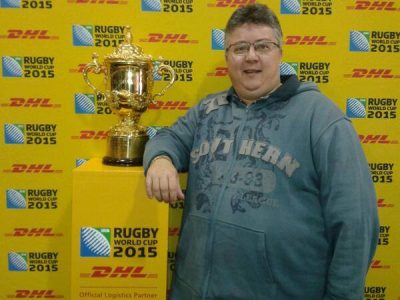 Trevor's public and highly pressurized career which involved a lot of travelling and copious days spent attending social engagements, business functions and launches, meant constantly high stress levels and serial dieting; a recipe for disaster which saw him tipping the scales at a massive 144kgs at his heaviest.
"On my small frame of 5.6ft, I knew I was in trouble," says Trevor.
"The warning signs were starting to mount and I realised I would have to make an investment in my health. I was forced to concede that I was grappling with a lifestyle disease capable of killing more people than we realise and I was determined not to become a statistic," said Trevor.
Trevor was correct; in-fact according to the Heart and Stroke Foundation of SA, 210 people die every day from heart disease.
Daunted by the mammoth undertaking that he was about to face, he was given some advice from his doctor.
"She thoroughly explained a concept called Slender Wonder and left me with a phrase that it has stuck with me, changing the face changes nothing, but facing change, changes everything. It was not about changing my body physically, but about revising a thought pattern and convincing myself this is nothing more than a simple lifestyle alteration," says Trevor.
The challenge, says Trevor, was to maintain his self-control when travelling and he did so by reconditioning his brain.
"I was so determined to succeed that I even adapted my travel plans to accommodate my new nutritional needs and never deviated from the programme. I quickly started to forget my love for dangerous and comfort foods and conditioned my brain to start 'liking' the healthy alternatives – pap vs snack bread, white bread or pastries vs Provitas for example," says Trevor.
His tremendous weight loss has not only helped him become physically healthier, it has also helped him psychologically.
"Of course, the fortnightly visit to the scale, at Slender Wonder doctor, Dr Ninnette de Klerk's practice, was great as the fat peeled off my body and my clothing sizes kept shrinking – over nine months I went from a 4XL to an XL. It also instilled an internal positivity and self-belief, heightened confidence and helped banish negative thoughts from my mind-set, no matter how hard life may have become," says Trevor.
Trevor hopes that he can inspire those who can relate, to become the best version of themselves.
"People who suffer from obesity and related health concerns often acknowledge that their lifestyle is to blame but give up their hopes of losing weight after trying many fad diets. My advice to them is to think of their lifestyle change as a conscious decision to invest in life. Also, when you've made achievements, no matter how small, don't be ashamed to reflect on your performance and pat yourself on the back," encourages Trevor.